Dark Spoof News Links
The Dark Spoof is a satirical newspaper and comedy website created for the entertainment of it's readers. [WARNING explicit content in the stories]
Click on the links below to enter the news story.
Angelina Jolie claims in an interview that her aunt raped her when she was only 3-years-old.

Psychologist Albert Henchman explains the reason Catholic priest rape young males in the Catholic Church. He says the strict celibacy rule and the fact that priest have made the Church their career and it is the only life they know makes it hard for them to walk away from the temptations.
It's being reported that the Sofitel Hotel in New York city hired a West African maid to clean rich people's hotel rooms even though there was a possibility that the maid could infect hotel patrons with H.I.V.


A hotel maid from West Africa discovered the best way to get rich without the need for an MBA or thousands of dollars in investment capital.
An old Arizona woman has been jailed for 13 years for a three year affair with a little boy. Susan Brock began grooming the boy with presents such as an Xbox when he was just 11 years old.
Tristane Banon a French writer who is desperate for fame and recognition after years of struggling unsuccessfully to make a name for herself……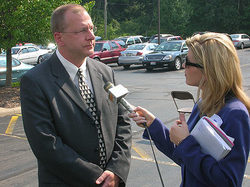 Dark Spoof news reporter Cheryl Tiegs.

An Auburn woman has been accused of raping an 8-year-old boy…..
Juanita Byars, 72-year-old woman from Salisbury, North Carolina, has been arrested for allegedly committing sex acts with a seven-year-old boy.
Franz Polzer, a construction worker is rumored to have taken Lauren Spierer after she spent a night of partying with friends on June 3.