Dark Spoof News Stories
Woman Jailed For Raping a Small Boy
An old Arizona woman has been jailed for 13 years for a three year affair with a little boy. Susan Brock began grooming the boy with presents such as an Xbox when he was just 11 years old. The woman also began having sex with the boy at the age of 11 and their affair continued until he was 17 years as she attempted to mold him into her 'toyboy' lover.

She once beat the small boy in the face when he was 11 years old because he didn't want to performing cunnilingus on her, leaving him with two black eyes. The boy had told Brock he couldn't lick her vagina because it smelled really bad and this made Brock angry, causing the beating. Apparently, Brock had not bathed the previous night, leaving a fowl order in her vagina.

At the same time as she was sleeping with the boy, her 18 year old daughter was also having sex with the boy.

Rachel Brock will go on trial later this year but is likely to get a lesser sentence on her under age sex charges.

The mother-daughter sex triangle was revealed as Brock, 49, was jailed after pleading guilty to three counts of attempted sexual conduct.

Brock wept in court as she apologized for her behaviour which is said to have left her victim, now aged 17, suffering from 'inescapable depression'.

Her husband Fulton, who filed for divorce after his wife's arrest on sex charges, is Supervisor in Maricopa County, Arizona.

Prosecutors had said church-going Brock was a predatory mom who had picked out the son of a family friend to satisfy her sexual desires.

She began molesting the boy when he was 11 years old with encounters often taking place in her Lexus car and at her home in Chandler, Arizona.

The dark haired homemaker also helped the teen have sex with his girlfriend and even supplied them with a 'sex kit' including condoms.

Brock's three year affair came to light after her teen lover's girlfriend told his parents.

Brock had been charged with 15 counts of abusing the teen, but under a plea deal reached in January pleaded guilty to three lesser charges.

Prior to being jailed for 13 years, just two short of the maximum sentence, she made a tearful plea for forgiveness.

She said: 'I hope to pray every day my heart will be healed. I will pray that somehow this could all be made right.

'My heart is swollen with sorrow and regret. I would like to publicly apologize to the victim and his family.

'I've offended everyone I love, including my family and my friends. I've hurt the victim and his family the most. I know that I need to take responsibility for my actions… Only God knows the intent in my heart. From this point forward I intend to do only good… even if it goes into the eternities.'

In an impact statement to the court, the teen said he had no idea what lay ahead for him when he met Brock.

'I was at the time a typical over-achieving kid,' he told the court.

'Life seemed rather easy and stable. I quickly grew to trust her. I did not know that she was slowly and methodically setting a trap for me.

'I hope to never see, feel or think of her again. I have been thrown into an inescapable depression.'

His father added: 'She destroyed my son's innocence.'

Brock was also placed on the sex offenders' register for life and ordered to pay her victim and his family $1m in restitution.

Brocks' daughter Rachel will go on trial later this year charged with eight counts of abusing the boy.

Her affair with him began when he was 13 years old and continued while he was also being molested by her mom.

Hundreds of lesbians in the prison where she is going to be transferred have vowed to take revenge on her. They are saying they plan raping her thousands of times by converting her into a man. In women's prison a woman who is raped is considered to be a lesbian because she is made to perform like a man. This means Rachel Brock will not have her breast fondled and her vagina and anus will not be penetrated during her thirteen year stay in prison.

As explained by the inmates, she will have to finger bang hundreds of female inmates in the vagina and anus to satisfy them sexually. She will also have to fondle and suck the breast of all the inmates that rape her. She will have to keep her shirt and her underwear on to give her the physical features of a man. The female inmates will require that she put a sock in her underwear to give her the appearance of having a real penis.

The inmates are very inventive and resourceful, they fashioned a mustache out of hair and they tied it together with a string in the center which is long enough so Brock can tie the string to the back of her head keeping the mustache in place. The mustache is eight inches long and would give Brock the look of a Chinese man while she finger bangs women's vaginas.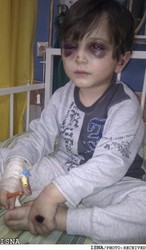 Picture of the boy at the age of 11-years-old when he was beaten by Brock.
After Rachel Brock beat the boy he was transfered to a hospital where he told the nurse that he had fallen down some stairs. He was too scared of Brock to reveal what had really happened to him.